Advanced Studies
The Advanced Studies Courses in The Art of Yoga Therapeutics and Healing are four day, six hours per day programs for interested Yoga students and or teachers who wish to deepen their understanding of how and in what ways Yoga heals our body and mind. These programs involve both the practice of the Yoga asanas and the analytical/diagnostic study of how to see and understand bodies from a number of different points of view.
Each day will involve three hours of Yoga practice and three hours of diagnosis, analysis, theory and methodology as a means to learning how to both heal our own bodies and as teachers how to work more deeply and with greater understanding with one's students.
Drawing on not only her Yoga studies but her thirty five years of practice of the macrobiotic life style as well, Karin will share with participants ways in which one can develop one's capacity to work with the body intuitively, practically, intelligently and in a highly balanced manner.
Among the topics which are covered in The Advanced Studies Courses are Alignment and The Asymmetric Body, Yoga for Scoliosis (which is taught by guest teacher Deborah Wolk), Working with Adjustments in the Yoga Poses and How to Work with the Injured Body, The Psychosomatic Effects of Yoga—the Back, the Spine & the Nervous System and Yoga Asanas and Internal Organs. Other guest teachers will also be invited on occasion. Participants can attend Karin's Advanced Tuesday Night class and other ongoing classes (the cost of these classes is extra or can be part of a special Full Course Offerings package).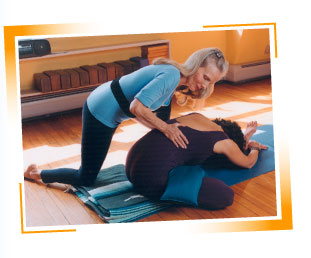 All Advanced Studies Courses are held in Cambridge, Massachusetts at Karin's Loft. Accommodations are available at The Healing Center Bed and Breakfast adjacent to The Loft or at other Bed and Breakfast locations minutes from The Loft.
About DEBORAH WOLK
Deborah Wolk began practicing yoga in 1994 and soon found that practicing alignment-based yoga could control back pain and arrest the progression of her scoliosis.
Inspired by the improvements yoga brought to her life, Deborah went on to study with many of the top specialists in Yoga & Scoliosis including Elise Browning Miller who certified her as a Yoga for Scoliosis trainer. Deborah has presented her Yoga & Scoliosis workshops in New York City, throughout the US, and in Europe since 2002.
In 2003 she created the first weekly Yoga & Scoliosis class on the East Coast and in April 2007 she and Alison West founded the Yoga Union Center for Backcare and Scoliosis - the first yoga center of its kind, which teaches a wide variety of yoga classes specifically for students with back problems and scoliosis including specialty classes for children and classes for students with Harrington Rods and other spinal fusions.
Deborah Wolk is registered with Yoga Alliance as an E-R.Y.T. 500 instructor and is registered as a Yoga Therapist with the International Association of Yoga Therapists (IAYT). With Alison West, she is co-Director of Yoga Union Center for Backcare and Scoliosis in Manhattan.


Workshops for Teachers
This special workshop for teachers or for aspiring teachers is geared towards those who wish to work on their teaching skills in a variety of ways as well as for persons wishing to find their own voice. Each teacher or potential teacher has a unique voice which, once uncovered by unraveling the layers which get in the way, will emerge in a unique, strong and effective manner conveying a greater sense of confidence and of purpose. The goal of this workshop, therefore, is to help develop the innate gifts and creativity within as opposed to creating an external template which we impose upon ourselves from without. It is also geared towards helping participants assess what their strongest suits are and how to build on them.
In addition, we will spend time observing and understanding bodies and how the various asymmetries in the body affects the way the student approaches the Yoga asana. We will study how to correct a pose without disturbing the student's process, and how to use language in a way that is both inspiring and elicits a sense of freedom within the individual. We will also look at a hand's on approach to the nature of adjustments in the poses so that the student can get the right action as well as how props can be employed to further aid the student to get the correct action.
Certain sequences will be studied as well as the goal and purpose of these sequences. We will look at a number of ways sequences serve different functions in teaching such as sequencing for building strength, sequencing for opening blocked areas in the body, sequencing for developing the accuracy of the pose etc.. A number of sequences which will be taught will be in the hand outs.

Ultimately, this workshop will bring together an intense Yoga asana practice based on the classical Iyengar method, which involves an adherence to form, and a quest for self expression within the confines of that form. It will investigate ways to balance the parameters of structure within the body and freedom of self expression within the voice. Finally we will learn how to weave in and out of these two polarities until we find , as a teacher, own unique place in the middle.
Some other themes we will work with:
The Art of Practice—How your practice and teaching make up one single tapestry
Using Imagery in Your Teaching
The origins of Originality
The Art of Connection and the demystification of boundaries—why the teacher is both the teacher and the taught
The Healing Power of Humor—Irony and the Exposure of Self
How to react when difficult situations make you lose your center.
How to incorporate injuries into your general classes
Establishing priorities: Building your class from within as you are teaching the class or How to throw your notes out the window.

Yoga, Scoliosis and The Organic Body
with Deborah Wolk
February 23rd - February 25th, 2018 (The Loft)

For more informtion, see the Iyengar Classes page.
Deborah Wolk is one of the most experienced and dedicated teachers of Yoga for Back Care and Scoliosis in the country. She has studied intensively with Bobbie Fultz and Elise Browning Miller and is a certified Yoga for Scoliosis Trainer. Deborah lives and works in New York City where she recently founded Samamkaya Yoga Back Care and Scoliosis Collective.